Celebrate Mardi Gras with Our Parade Packages
The word "Mardi Gras" probably invokes some kind of party image for you, whether it's parades, floats, masks, or revelers in the streets. Believe it or not, Mardi Gras began as a tame party, with the first recorded celebration in Louisiana being in 1699. By 1730, masks and costumes had been institutionalized, along with dance and music. Mardi Gras does have religious reasons, being the celebration before Ash Wednesday, which is the first day of Lent, a period of fasting and prayer before Easter. In the Catholic tradition, you give up a luxury item as penance for your sins.


RENT A PARTY BUS FOR FAT TUESDAY IN NEW ORLEANS
Mardi Gras, or Fat Tuesday, is the biggest celebration of the year in New Orleans. You'll want to get all your friends together and rent a party bus or a limo from Riculfy Livery. Offering a wide selection of luxury limousines, from Rolls Royce to Limo Buses, and premier parade packages, you'll arrive at Mardi Gras in style. Contact us today!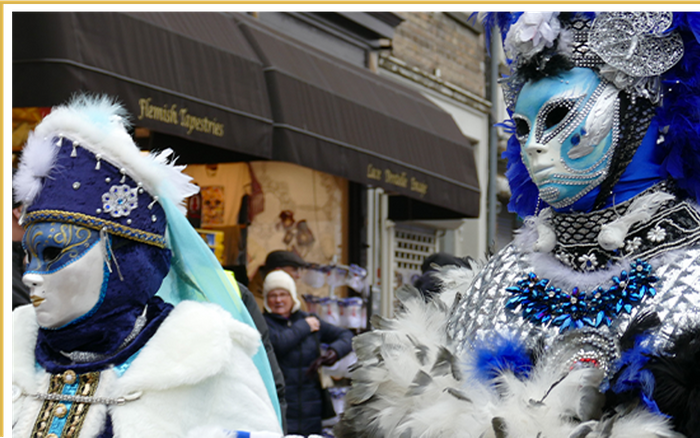 MARDI GRAS TRADITIONS
Traditional Colors Are Purple, Green, And Gold
Traditional Dessert Is The King Cake
Mardi Gras Has Krewes, Or Organizations That Plan Balls And Parades
Mardi Gras Has Beads
Mardi Gras Has Floats
All Float Riders Must Wear A Mask
Most Krewes Have Signature Throws, The Most Coveted Item Thrown From Their Float
Mardi Gras Has Torches, Or Flambeaux
And So Many More!
PARADE PACKAGES
Riculfy Livery in New Orleans offers luxury limousine parade packages for Mardi Gras and other celebrations throughout the New Orleans area. We also offer tux rentals for those extra special occasions life affords. Below, we'll go over briefly a few of the Mardi Gras' best traditions. Celebrate Mardi Gras in style with a limo rental from us today!
MARDI GRAS TRADITIONS
Mardi Gras colors. The official colors of Mardi Gras (and traditional) are purple, gold, and green. They were chosen in 1872 to honor the visiting Russian Grand Duke Alexis Romanoff whose colors of his house were the same. Purple represents justice, green represents faith, and gold stands for power.
King Cake. Another long-standing tradition is the King Cake. Boasting the same colors as Mardi Gras with green, gold, and purple icing, the King Cake is usually oval and braided. A plastic baby was placed inside the cake and whoever got the baby was the king for the day. Nowadays, the baby is placed outside of store-bought cakes to avoid choking hazards.
Mardi Gras beads. These are one of the most recognized symbols of Mardi Gras, coming the traditional colors as well. They were first thrown from the Krewe floats in the 1920s.
Riculfy Livery offers the best luxury limousine rentals. Call today for our parade packages!